Bowflex SelectTech 552 Review
Bowflex SelectTech 552 Adjustable Dumbbells
Today we will be providing a full review of the Bowflex SelecTech552 adjustable dumbbells and a full synopsis of the pros and cons (if there are any) of the product. Before you make that purchase, let's start reading about the features first.
Feature List
Weight Plates - Select 5 to 52.5 lbs
2.5lb increments
Replaces 15 regular dumbbells
Dimensions: 15.75" x 8" x 9"
been a best seller on Amazon
Unless you've been living in a cave the last few years, you've probably seen the Bowflex SelectTech 552 Dumbbells commercial at least once. It's the one where the really excited guy tells you how awesome these adjustable dumbbells are while images of ridiculously fit models demonstrate their uses.
Although adjustable dumbbells have been around for some time, this particular product created quite a stir…and for good reason. It has been a best seller on amazon for years because it is so easy to use, it's a big space saver and very easy to operate. The weight range is what 80% of the users will want as well. So, it naturally fits perfect for at home workouts at cheap price.
Let's look at the main features below to get started to see if this will work for you as it has so many of other fitness enthusiasts.
Bowflex Selecttech 552 Adjustable Dumbbells Features
The revolutionary design allows 1 set to replace 15 dumbbell sets
Easily adjusts in seconds
Weight Plates Ranges between 5lb and 52lb
Adjusts 2.5lbs increments
Saves an abundant amount of space
Durable rubber handles reduce hand injury and slipping
Bowflex Selecttech 552 Dumbbells Drawbacks
When mishandled, the plastic pieces can break (although this occurs infrequently)
The weight plates only go up to 52.5 lbs. If you need more than that check out the selectTech 1090 model here.
What Makes the Bowflex SelectTech 552 Adjustable Dumbbells So Special?
The entire premise of an adjustable dumbbell is that you have the ability to choose how much it will weigh (no, it doesn't defy gravity. Let me explain).
With the Bowflex SelectTech 552 Dumbbells, the base unit itself, with the smallest setting selected, only weighs 5 pounds.  However, all the user has to do is slip it into place, and it will adjust and the bar will attach the desired additional weight range up to 52 pounds. (see image below) So, it's great for a multitude of exercises and skill sets.
They are also compact and great for small workout spaces and especially those living in an apartment or condo where you don't have a dedicated home gym workout area.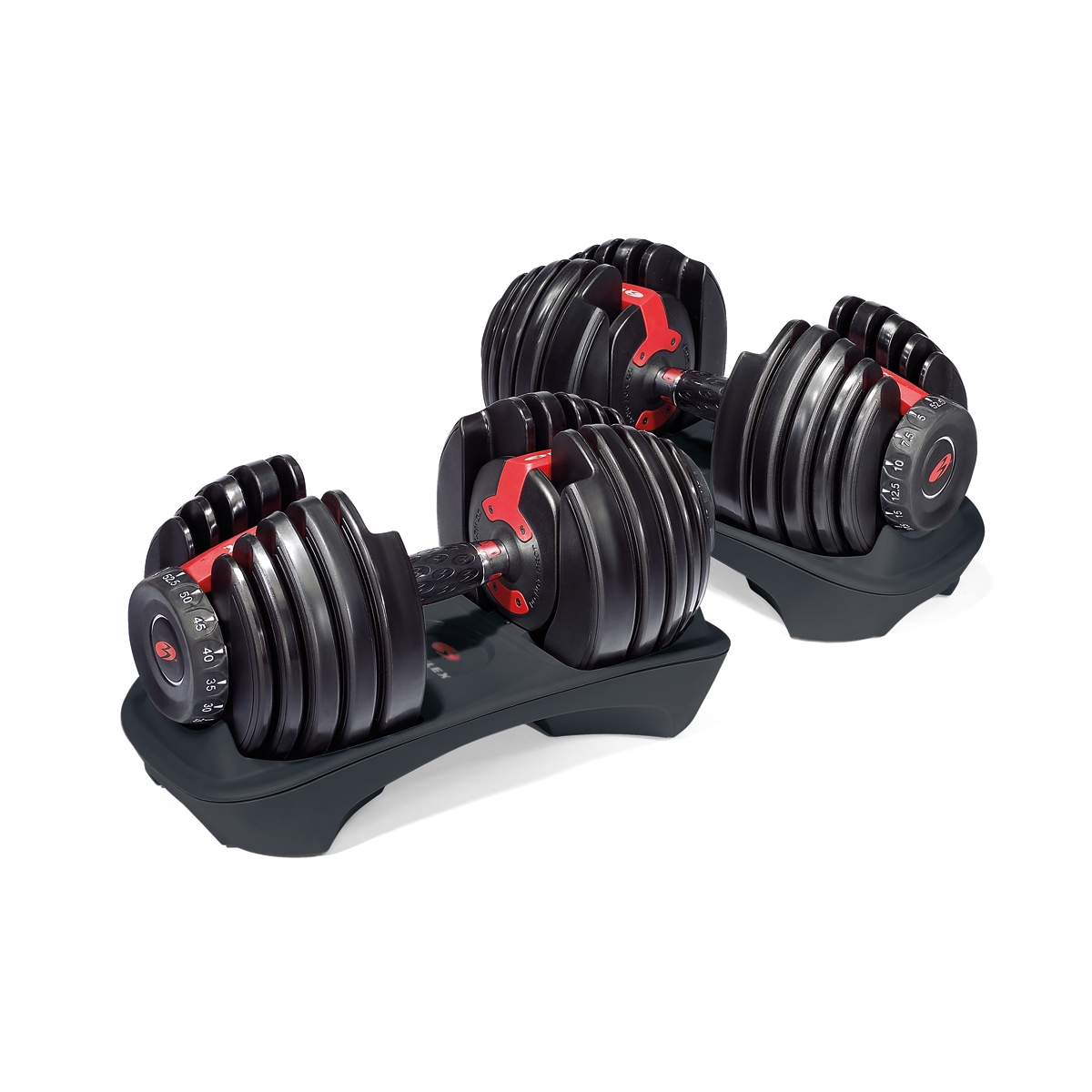 Pretty cool, right?
The Bowflex SelectTech 552 adjustable dumbbells has a weight range that can adjust between 5lbs all the way up to 52lbs within seconds, essentially replacing 15 sets of regular ones, which takes up far less space than traditional sets.
As you can see in the picture above you need to have the set sitting in the storage case. Once it is in the case, you can turn the dial on the adjustable dumbbell to the desired weight setting you would like to workout with. Once you have the desired setting you pull it out of the cradle and start getting after your strength training workout!
Very Easy to Set It Up
The 552 model will come with a workout DVD called "Secrets of the 4 step Rep".   It is a guide that will show you how to get the most exercises and benefits out of dumbbells.  They will list out around 30 exercises that you can perform with them and it comes out to around 80 variations of exercises you can do in the privacy of your own home.
You can do typical leg exercises like lunges or squats.  You can work on your back doing dead lifts and shoulder presses and much more. If you own a Bowflex home gym model  they are easy to integrate into incline or decline bench presses. Either way they will show you how to do the exercises the correct way.
What Makes the Bowflex SelectTech 552 Adjustable Dumbbells So Special?
I
f you do a quick search on Amazon, you'll find that a single set will cost around $100+ (not counting shipping). like the example to the right for a single 30lb set.
Now, multiple that cost by 15… and you are at $1,500? Whaaaaat!!!!
Yeah, that's the price you would pay for the 15 sets of dumbbells 552 model replaces. Now, click on the link below to see how much a Bowflex SlectTech 552 cost on Amazon Here.
The savings alone justifies the purchase, but what about everything else?
As mentioned before, the adjustable dumbbell set saves a ridiculous amount of space. Most home owners prefer to use their workout area…well…for working out, instead of being cluttered up with unused weights.
Each set comes equipped with selection dials to easily adjust the weight however you see fit. For the first 25 pounds, the weight plates can be adjusted in 2.5lb increments, which is perfect for women, the elderly, or anyone that prefers to use lighter weights.
Each one also comes with durable rubber handles, which greatly reduces rough callused hands and the incidence of slipping.
From what I've seen, the only serious issues arise when used improperly. Although this adjustable dumbbell weight set is durable, some are still made of plastic and have been known to break if dropped from high enough height. However, from all of the reviews I've seen, this happens very infrequently and requires a simple replacement part to be ordered.
Will The Bowflex SelectTech 552 Save You Money
Bowflex 552 SelectTech Optional Storage Stand
This does come with a case to sit the bowflex 552 dumbbells in there. This will work for many of you . I did want to mention that there is a stand available that you can buy to set them in that is higher off the ground so you don't have to bend over and get the dumbbells.
This is probably for folks who will be using the heavy weights in the 40 plus pound range. It just makes it easier to grab and you don't risk hurting your back taking them off the floor in the normal case it comes with.
Example Dumbbell Chest & Shoulder Workout Video
Bowflex SelectTech 552 Adjustable Dumbbell Summary
The Bowflex SelectTech 552 is a stellar product. Bowflex has been creating revolutionary home exercise equipment for 30 years, and is one of the most trusted names in the industry.
If you're looking for a piece of fitness equipment to help you reach your fitness goals, without cluttering up your living space, or the exorbitant cost that comes with other equipment, than perhaps the Bowflex SelectTech 552 will make a great addition to your home gym.
Follow the link below to see what others are saying about it…
Click Hereto buy the top rated SelectTech 552 adjustable dumbbells on amazon at the best price and add this to your home gym that will give you a whole new set of exercises you can add to your workout.