Bowflex PR3000 Home Gym Review
Bowflex PR3000 Home Gym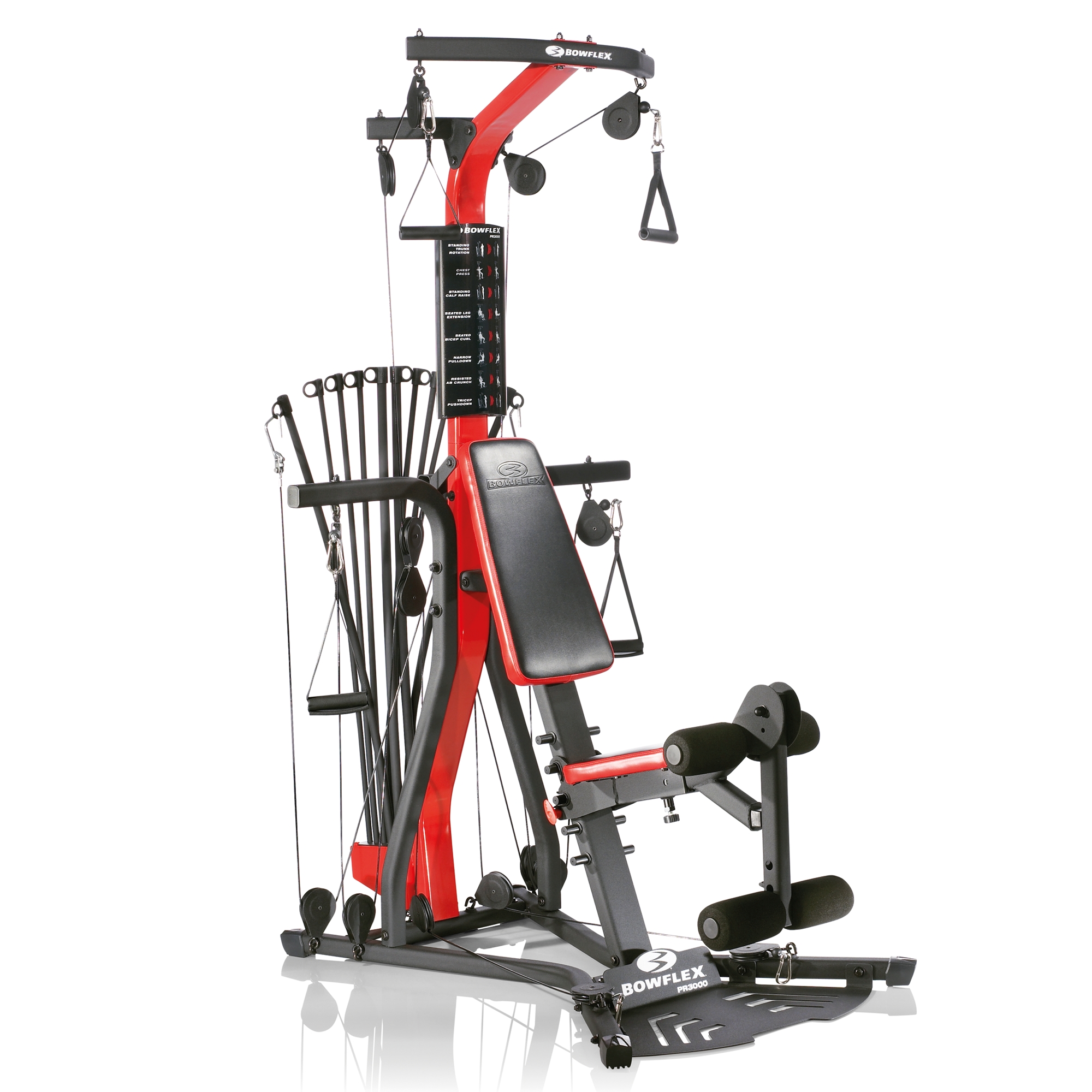 Tight for space but want a compact home gym to do circuit weight training ? The PR300 is a great beginner home gym that won't break your budget.
Feature List
Has a resistance range of 5 up to 210 pounds resistance.
Includes a vertical bench and lat pull down
You can do up to 50 different exercises.
Requires a 8′ x 6′.5 workout area which is nice and compact.
Don't have to change cables between sets
Easy setup at about an hour.
Perfect for circuit training
Height 82 Inches x 86 Inches wide x 76 Inches in length
Rods included: 1 5lb pair, 2 10lb pairs, 1 30lb pair, 1 50 lb pair
In a hurry ? >> See the best discounted price Here.
You know it's difficult losing weight and getting in shape. An entire industry has been built up filled with fad diets, odd workouts, and the latest miracle whatever of the week.
So you're not only having to work hard to stay in shape you're also having to work hard at figuring out what really works and what's just there to take your money.
The Bowflex PR3000 can be effective in helping you get into shape and lose weight. Working out is still the key component in getting in shape, a key reason workouts and diets fail is because people don't stick with them. It's not hard to see why working out is difficult and it's hard to find the time to go to a gym.
Bowflex PR3000 Features
Of course this is what it comes down to in the end, OK this thing works but what can I do with it aside from hang a coat on it?
Well for starters it has over 50 different exercises and you're aided in this by hand grips and ankle cuffs that help you perform all of these exercises.
A vertical bench press helps with upper bodywork and a cushioned leg attachment helps for lower bodywork for a complete workout.
In terms of exercises you have all the major muscle groups covered. Various types of benching such as decline and inclined work the chest.
Upper and lower arm work such as high delt rows, shoulder shrugs, rotator cuff work, various pulldowns, triceps extension, bicep curls and shoulder presses are included.
For the lower body exercises such as seated ab crunches, trunk rotations, squats, leg extension, and hip work such as various raises and abduction/adduction exercises.
See the best price and read more comments about the PR3000 at bowflex.
Bowflex Products And Their History
With the Bowflex PR3000 you can have a gym right in your home. The ability to exercise whenever the mood strikes you is very useful, as is the ability to workout without having to drive to the gym. With a home gym not only is it convenient you also don't have to pay a monthly gym membership fee.
Now here's why you'd want to buy a Bowflex PR3000 in the first place. Firstly it doesn't take up a lot of room like free weights that seem to take over an ever-increasing amount of your floor.
Secondly, it has over fifty different exercises, which not only helps you work out better but also cuts down on the boredom.
Bowflex PR3000 – Does It Work As Advertised?
A question you may have is does the Bowflex PR3000 work? It's resistance training through polymer rods and not traditional weights. However, despite a difference in approach, reviews and reports show that it does work.
The best way to prove that these machines work is to go to people who have bought and use them. Reports by users are mostly positive and note that Bowflex gyms do work provided one is realistic about their goals. It won't make you into a huge giant of solid muscle according to most reviews but it will get you, and keep you, in shape.
The stated goals of a Bowflex PR3000 are to help you get in shape. In this respect it does do what is advertised provided you use it as part of a regular workout program. Doctors recommend a person get at least 2 to 3 days of total body resistance training per week, which the Bowflex PR3000 easily provides.
Bowflex PR3000 – What Other Users Are Saying
Now if you're thinking of getting a Bowflex PR3000 here's what a few other people have thought of one after buying it. General themes you'll encounter is its easy to use, doesn't take up a lot of room, and offers a pretty good workout. Now the downside is many note is that it may not be the best device of heavy bodybuilding and it may not be the best regiment for a competitive athlete.
Bowflex PR3000 Drawbacks
While the Bowflex PR3000 is a good workout machine it has its down side as all things do. Firstly it offers resistance training of only 210 pounds to start off with, which if you start getting into good enough shape may require you get the optional upgrade. While this does cost money it also increases resistance to 310 pounds, which does help. You can look at other models that go up to 410 pounds in my Bowflex home gym models reviews.
The other main flaw of the Bowflex is you have to be realistic about your results. While you walk into this thinking you're going to look like a bodybuilder the results are often a lean but still well muscled build not a herculean/Mr. Universe style body. This is no bad thing you'll still be in shape and healthy but you may need to perform other exercises if really large muscle size is your end goal.
How To Buy A Bowflex PR3000
Bowflex is a trusted manufacturer of home exercise equipment since 1986 and are no fly by night company. They have a long-standing history of good business and have been on the NYSE since 2002. The Bowflex PR3000 is another great product in a long line of power rod resistant workout machines.
As with a good many things you could buy a Bowflex from several different merchants. When price shopping you have to not only consider the list price but shipping and payment options. Who you choose to go with does affect the price however, the best choice may be with the manufacturer whose price may not be the lowest but does offer the best perks.
You can shop at bowflex for one of the best prices on the PR3000 here and read more reviews about satisfied customers.
In terms of company warranties the Bowflex PR3000 comes with a few based on its various parts. For example the frame's warranty is for a year, the parts for sixty days, and the resistant rods are good for seven years. Also its worth knowing if you get a Nautilus Credit Card you have eighteen months to pay off the equipment without interest provided you make minimum monthly payments.  Now if you are just wanting to know what the most expensive model as versus the PR3000 then checkout out our Bowflex 2SE Review.
The Final Judgement Of Bowflex's PR3000
Now the final and most important of questions is the Bowflex PR3000 worth it's price tag? The answer to that is yes provided you are dedicated and focused about getting in shape. If you approach this with the intent to better yourself and with realistic goals then a Bowflex is one hundred percent worth it.
Remember a Bowflex PR3000 is worth it provided you use it as instructed, don't slack off, and are really serious about getting in shape. That means you have to commitment today towards actually doing something instead of just talking about it.